The national carrier's international on-board cuisine, enjoyed by passengers at 30,000ft, is now served in the heart of its bustling capital, Colombo.
Semondu – SriLankan Catering's first restaurant in town, is a gastronomic journey, set amidst the architectural splendour, of a bygone era. The former Dutch hospital, now restored to its past glory, in a charming restaurant cum shopping precinct, centrally located in Fort.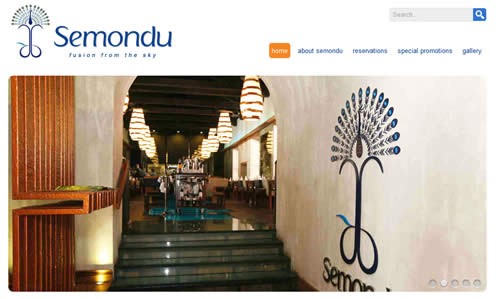 While customers make their pick from a wide range of starters, salads soups and main courses, Semondu's team of chefs are seen in action, in the kitchen, at the far end of the restaurant. Catching a glimpse of the chefs in action, adds to the exhilarating experience of dining in a plush new restaurant that dish out an array of fusion cuisines, blending flavours, mixing and matching Asian and European cuisines, with an oriental touch, served by a highly skilled and professional service staff in the restaurant.
Semondu is operated by SriLankan Catering a fully owned subsidiary of SriLankan Airlines. The airlines catering unit provides on-board catering for airlines that operate through Colombo. Its state of the art flight kitchen has a production capacity of over 25,000 meals per day, in a 24-hour operation, 365 days a year.
For more information, visit www.semondu.com.