We are now on Telegram
Acronis True Image 2016 is now available at www.acronis.com for local-only backup and recovery. Acronis True Image 2016 provides entire computer backup and bare-metal restore, and/or migration to new computers using a local hard drive.
The new 2016 edition also brings back the 'try& decide' capability, providing a controlled, temporary environment to safely test new software, drivers, and system configurations. Acronis True Image 2016 is also powered by the Acronis AnyData Engine.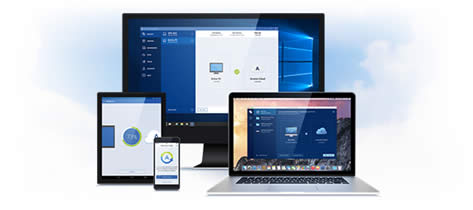 The new Acronis True Image Cloud provides complete protection both locally and in the cloud – including pictures, videos, documents, applications, passwords, settings, contacts, events, and an entire computer.
Acronis True Image Cloud features multi-device and new mobile device support – including Android, iPhone, and iPad devices and Windows tablets – a new easy-to-use online dashboard that lets users manage all devices from a single place, unlimited cloud storage and new personal archiving.
Acronis True Image Cloud Solves Today's Biggest Backup Pains
Acronis True Image Cloud provides complete protection against data loss disasters and mishaps, including accidental file deletions and user errors, as well as damaged devices, loss and theft. Acronis True Image Cloud makes it easier than ever to:
Protect all devices – PCs, Macs and newly expanded support for Android, iPhone, and iPad devices, and Windows tablets, extends protection to the world's most popular computers, laptops, and mobile devices in use today.
Manage multiple device backups in one place -new online dashboard isan easy-to-use management console that allows a single user to manage the backup and recovery of multiple devices from one place – with the ability to access it from any device and location via a web browser.
Store and archive data in the cloud- unlimited cloud space and the new personal archiving capability for moving large and rarely used files to the secure Acronis Cloud makes sure that users never run out of storage, while freeing-up hard drives to keep computers running smoothly. Users can access and view archived files from any device and can archive data by type and size.
Full Image Backup Technology Protects Everything
Powered by the Acronis AnyData Engine – a set of powerful data protection technologies that capture, store, recover, control, and access any data from any location – the award-winning Acronis True Image features full image technology that ensures users never lose data by protecting everything with the ability to restore only what is needed – from a single lost file to an entire computer.
The new Acronis True Image features the following technology benefits:
Speed – Saves time with the fastest backup and restore in the industry both locally and in the cloud – up to 50% faster than the competition.
Safety, security, privacy – Ensures that data is always secure with a user-defined private key that uses AES-256 encryption and secure communication channels, securing data in transit and in the cloud. Only the owner of data can access and manage data protected in the Acronis Cloud, using a password.
Flexible storage options – Backup data to multiple sources and destinations, including a local drive, external drive, local or remote network, and the Acronis Cloud, as well as 3rd party cloud storage destinations available through local file system integration. Different backup plans may be setup for full system backup, specific files and/or folders.
Optimized for Windows 10 and the most recent Mac OS X operating systems -Always stay up to date and compatible with the latest operating systems. Also includes support for Master Boot Record (MBR) and GUID Partition Table (GPT), BIOS and Unified Extensible Firmware Interface (UEFI), and WIMBoot.
Real-time release updates – Get the latest technology updates with a cloud subscription model that ensures users get immediate access to every new release.
Availability and Pricing
The Acronis True Image family of products is available at the pricing below:
Acronis True Image Cloud with unlimited cloud backup & archiving space:

$99.99 per year for one computer and three devices
$159.99 per year for three computers and ten devices
$199.99 per year for five computers and fifteen devices

Acronis True Image 2016 for local only backup and restore:

$49.99 for one computer
$79.99 for three computers
$99.99 for five computers
For more information, a free trial, or to buy the new Acronis True Image solutions, visit www.acronis.com.