We are now on Telegram
CyberLink www.cyberlink.com has just launched PowerDVD 14, the latest version of the world's pre-eminent movie and media player for Blu-ray, 3D & HD content.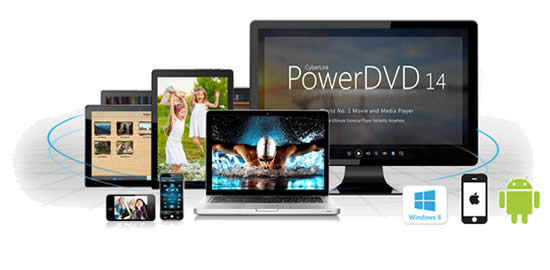 With tablet and mobile video viewing experiencing record-breaking growth, PowerDVD 14 offers cross-platform support with free mobile apps for leading tablets and smartphones, and for the first time, integrates the new CyberLink Cloud service to provide more convenient storing, syncing and sharing of videos, photos and music.
"As the first and only media player to integrate PC, mobile device and cloud platforms into a seamless entertainment ecosystem, PowerDVD is designed to enhance how people experience their media," said Alice H. Chang, CEO of CyberLink. "In an increasingly media-rich and mobile-focused world, we've designed companion mobile apps and introduced our new CyberLink Cloud service to draw together all the content scattered across people's digital lives so that they can enjoy their entertainment anywhere they want, on any device they choose."
Building on its industry leadership, PowerDVD 14 is the first multimedia software to support the brand new High Efficiency Video Coding (HEVC/H.265) format. This next-gen video format is designed for higher resolution entertainment delivery, enabling users to download better quality videos up to 50% faster than current formats allow.
In addition to these world firsts, PowerDVD 14 comes with more than 50 new and enhanced features, including expanded video and audio format support, more customization options, and the ability to watch enhanced YouTube videos offline. Highlighted new capabilities include:
Universal Media Player – PowerDVD supports all popular video, audio, photo and music formats from discs or files, including new H.265, AVCHD 2.0, lossless APE & ALAC audio, 4K and MKV. It also offers full support for the newest UltraViolet standards for premium video content streaming and download in the US and other markets where available.
Cloud Connected – Users of PowerDVD 14 Ultra will receive a year's free subscription to 10GB of space on CyberLink Cloud, where they can store media, sync it across their PC and mobile devices and even share it with others.
Across Devices – New Power Media Player brings CyberLink's award-winning multimedia technology to iPhones, iPad, Android and Windows 8 devices so users can stream and copy content seamlessly across connected devices on home networks.
Better YouTube – PowerDVD now features "pinning" functionality so users can save YouTube videos to watch offline. Pinned videos can be upscaled to HD or 3D, enhanced with lighting and noise reduction adjustments, and enjoyed using PowerDVD's fast forward and slow-motion features. Use PowerDVD as your digital video recorder (DVR) for YouTube.
Availability
PowerDVD 14 is available today from the CyberLink online store www.cyberlink.com in English, French, German, Italian, Spanish, Chinese (Simplified and Traditional), Japanese, Korean, Russian and Portuguese.
PowerDVD 14 Versions and Pricing
PowerDVD offers both subscription and perpetual licenses so users can choose a purchase option that best suits their requirements. PowerDVD Live is the world's first subscription-based media player for Blu-ray and HD media and provides annual and quarterly subscription options.
Perpetual licenses are available for three versions of PowerDVD 14.
PowerDVD Live: US $44.99/12 month or US $14.99/3 month subscription
PowerDVD 14 Ultra: US $99.95
PowerDVD 14 Pro: US $79.95
PowerDVD 14 Standard: US $49.95
Upgrades from previous PowerDVD versions are available starting at $49.95
Visit www.cyberlink.com for more information