We are now on Telegram
CyberLink www.cyberlink.com has just unveiled CyberLink Media Suite 13, featuring three best-in-class media editing and playback applications – PowerDVD, PowerDirector, PhotoDirector, alongside trusted utility software Power2Go and MediaEspresso for disc burning and media conversion.
This distinctive collection of award-winning software offers users an exhaustive suite of multimedia tools at a significantly more affordable price-point than if they were to purchase the products separately.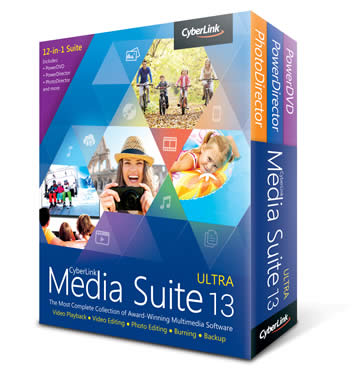 With 12 software solutions offered in one package it is vital that users are able to intuitively find and launch the correct software when they need it.
In Media Suite 13 this is achieved through the unique PowerStarter launcher, which provides a single, task-based interface that allows users to launch the right software for the task they wish to perform.
PowerStarter also makes managing all Media Suite related software updates and patches through one, easy-to-use screen that notifies users when relevant software updates are available for download.
Complete Functionality – PowerDVD for playback, PowerDirector and PhotoDirector for content creation, and Power2Go for burning and ripping. Providing everyday users with all the tools and utilities they need to create, play, burn, convert and take their media on-the-go, Media Suite 13 is the most comprehensive collection of multimedia software on the market today.
Unmatched Value – This valuable collection is comprised of more than $800 worth of feature-filled software with the inclusion of 12 premium applications for multimedia creation, playback, conversion and burning, plus three mobile apps exclusively for Media Suite 13 Ultimate users. Led by the award-winning trio of PowerDVD, PowerDirector and PhotoDirector, plus Power2Go – the burning software trusted by leading PC and burner manufacturers worldwide, Media Suite is the best value for money multimedia software offering available.
Ease-of-Use – Unique to Media Suite, PowerStarter provides a simple and streamlined interface through which users can open any application and manage all updates. With PowerStarter, finding the application you need is effortless. Select from:
Movie – to play Blu-ray movies, DVD discs & movie folders, plus explore movie information
Video – to create, play, edit, organize, and upload your videos
Photo – for viewing, organizing, editing and uploading photos
Music – to play, convert & edit audio files
Data & Backup – for burning and copying discs, as well as backing up your personal files
Utilities – to mount virtual drives, manage discs and more
Enjoy Media On-the-Go with Powerful Mobile Apps – Media Suite 13 Ultimate also includes three touch-optimized mobile apps for Android, iOS and Windows 10, extending your entertainment and creativity from PC to mobile devices.
Power Media Player offers versatile HD video playback on Android, Apple iOS and Windows devices
PowerDirector Mobile allows users to instantly create and share videos on their Android or Windows 10 tablet
PhotoDirector Mobile provides a new solution for Android & Windows 10 users, offering a wide range of photo editing, enhancement and adjustment tools. PhotoDirector Mobile also features content-aware removal, a powerful tool that allows users to remove unwanted objects from their pictures, without changing the rest of the image
Media Suite 13 is available today from the CyberLink online store www.cyberlink.com in English, French, German, Italian, Spanish, Chinese (Simplified and Traditional), Japanese and Korean.