We are now on Telegram
CyberLink today launched PowerDVD 15, the latest version of the world's number one media player.
Available at www.cyberlink.com from US$59.95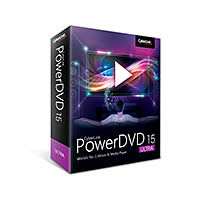 Ushering in a host of improvements and new functionality, PowerDVD 15 is an all-purpose entertainment station that improves the entire user experience, providing the ability to enjoy virtually any type of digital media.
CyberLink's award-winning TrueTheater technologies have been expanded in this latest version with new TrueTheater Color and TrueTheater Sound enhancements.
TrueTheater Color intelligently analyzes movie and video footage to deliver real-time enhancements to hues and vibrancy. TrueTheater Sound brings equally impressive improvements to audio content for both headphones and home theater speaker systems.
PowerDVD 15 is the world's first commercially available H.265 hardware optimized software player, with support for the latest and most advanced video formats. Hardware accelerated decoding for HEVC (High Efficiency Video Coding) video allows for optimization of CPU and GPU resources.
This results in an average reduction in CPU loading of 63 percent, and prevents the PC from hanging or stuttering. For 4K ultra HD video, PowerDVD delivers sublimely smooth, lag-free playback through smart buffering technology.
"We are witnessing a change in the media consumption landscape, with myriad types of media and almost unlimited content available to consumers. Home theater systems are becoming increasingly complicated, and our goal is to simplify and improve the media experience across the board," said Alice H. Chang, CEO of CyberLink.
"PowerDVD 15 is a one-stop solution that satisfies the widest range of consumer needs, and lets users take full control of their content for a completely personalized viewing experience."
With newly-added direct playback of Blu-ray and DVD ISO files, PowerDVD allows users to build a home video library accessible through a network attached storage (NAS) server.
For high frame rate video content, PowerDVD employs an intelligent playback algorithm designed specifically for high fps video. It provides flawless rendering of high frame rate footage captured at 120 or even 240 fps on GoPro or iPhone 6 cameras.
Key Features of PowerDVD 15 Include:
Premium quality through TrueTheater smart enhancements — TrueTheater Color creates more dynamic colors, for a more authentic viewing experience. TrueTheater Sound enhancements include bass and vocal range amplification to create a richly unique headphone audio environment. TrueTheater HD upscales DVDs and standard definition videos to HD quality.
Enhanced Playback of 4K and H.265 video – With optimization for hardware acceleration from Intel and NVIDIA processors, PowerDVD delivers flawless H.265 video playback, without stuttering or dropped frames.
Smoother High Frame Rate Video — An intelligent playback algorithm provides smooth rendering of high definition footage captured at 120 or even 240 fps on GoPro or iPhone 6 cameras.
Bit-Perfect High Definition Audio Output — Use of WASAPI Exclusive Mode allows for dedicated media output to external receivers, even for FLAC, MP3, and WMA file formats.
Broad Format Support — PowerDVD provides enhanced quality for a wide range of movie and video file formats, including MKV, MP4, AVCHD, and XAVC-S.
Companion Apps for Mobile Devices — Power Media Player brings a better mobile media experience to iPhones, iPads, Android, and Windows 8 devices.
Cloud Services — PowerDVD Ultra comes with a hefty 20GB of storage on CyberLink Cloud for one year, allowing users to upload, download, and even stream video to any PC with PowerDVD, or to any mobile device with Power Media Player.
Useful Personalization Options — Background wallpaper can be customized with preset graphics or personal images. Seldom used Media Panel tabs are easily hidden to streamline the interface.
Availability
PowerDVD 15 is available today from the CyberLink online store www.cyberlink.com in English, French, German, Italian, Spanish, Chinese (Simplified and Traditional), Japanese, Korean, Russian and Portuguese.
Pricing
PowerDVD offers both subscription and perpetual licenses so users can choose a purchase option that best suits their requirements.
PowerDVD Live is available in annual and quarterly subscription options. Perpetual licenses are available for three versions of PowerDVD 15.
PowerDVD Live: US$44.99/12 month or US $14.99/3 month subscription
PowerDVD 15 Ultra: US$99.95
PowerDVD 15 Pro: US$79.95
PowerDVD 15 Standard: US$59.95
Upgrades from previous PowerDVD versions are available starting at $49.95
Visit www.cyberlink.com for more information