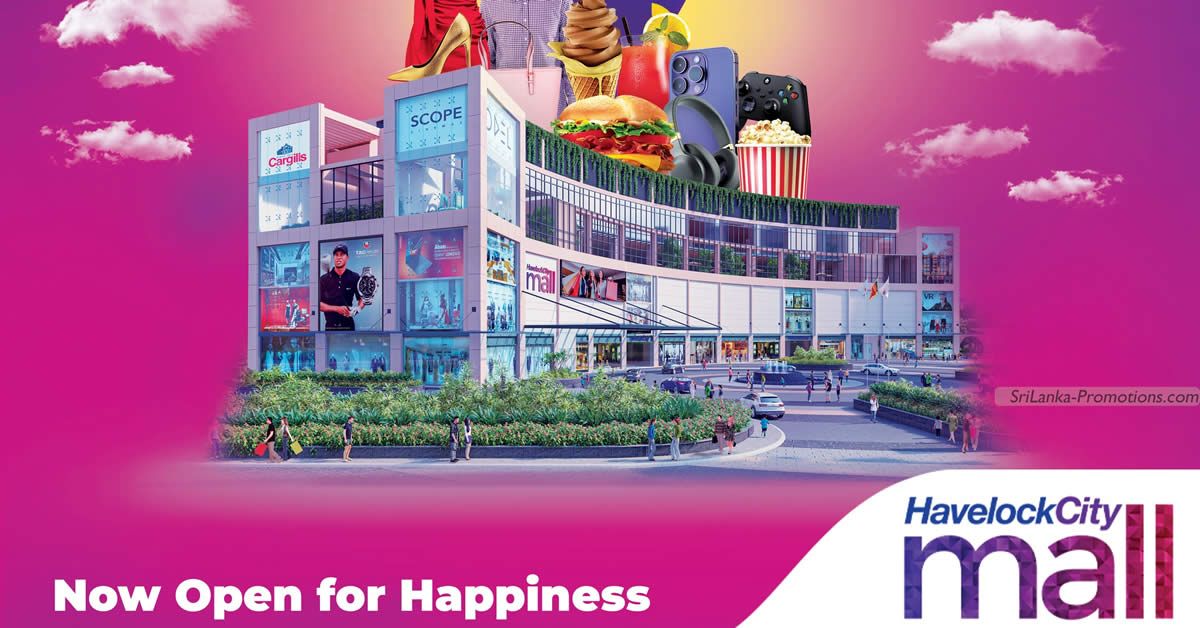 We are now on Telegram
An unparalleled range of shopping and dining options

Havelock City Mall is Colombo's premier lifestyle mall offering an unparalleled range of shopping and dining options
Spread over 6 floors of retailers, together with a variety of fun filled entertainments, it is designed for your whole family to make that experience delightful and full of surprises.
Havelock City Mall's 6 floors are packed with some of the most iconic retailers together with international brands and a truly amazing food court with dishes from around the world as well as your local favourites. Talking of retailers, you can't get more iconic than Apple, ODEL, Burger King, KFC, Nike, Adidas and LG. You can also relax in the lively food court and sample cuisines from around the world including Chinese, Japanese, Italian, Arabic and Sri Lankan.
If you want a quick snack there's Burger King, KFC, Subway, Pizza Hut, Popeye's, Taco Bell, Fish & Co, PappaRich & many more to choose from.
Chill out at the cafes such as Coffee Connection, Klassy Cafe, The English Cake Company, The Layover; visit the French patisserie, Délifrance, try casual dining at The Harpo's Gastro Pub for Italian delicacies and pub fayre, the MAIN sports bar and restaurant or the Mong Kok for a truly authentic Chinese food experience.
Don't forget the superb entertainment complex including the first IMAX cinem a in Sri Lanka along with a 6 theatre multiplex, a gaming arcade & an adventure zone for the kids.
Have a totally relaxing Spa session whilst your kids are immersed in the Wet & Wild Adventure Zone, getting lost in the Jungle Zone (Complete with climbing wall) or getting wet and excited in the amazing Ocean Zone with tons of water play action (and changing quarters!)
Some of the retailers as of 19 Oct sorted by name
360 Welness (L05-04)
AVR (L03-01A)
Aarad (L02-29)
Abans (L03-12)
Aldo (L01-10)
Alluring Designer Jewellery (L01-33)
Ancient Nutra (B-05)
Arabian Vibes (L04-10)
AriElle (L02-26)
Armani Exchange (L01-09)
BOC ATM (ST4 ATM2)
Balinese Spa (L05-03)
Baskin Robbins (L04-14A)
BeWAXed (L02-20)
Bliss.lk (L03-17)
Burger King (L04-08)
Calvin Klein (L01-12)
Carnage (L02-07)
Carnival (L03-20)
Chamathka (L02-18)
Coffee Connection (L02-31)
Colombo Steak House (L01-01)
Comfort On (L01-34)
Cool Planet (L01-15)
Cool Planet (L02-12)
Cozy Linen (L03-16)
Crocodile (L01-30)
DFCC Bank ATM (ST5 ATM5)
DSI Premier (L02-06)
Delifrance (L01-08)
Dilly & Carlo (L02-02)
Dilshan Drapers (L02-24/25)
Dindigul Thalappakatti (L04-12)
Dunstans (B-08A)
English Cake Company (B-10B)
Envoy London (L02-01)
Expographic Books (L03-06)
Fireworks (L03-03)
Fish & Co (L01-05/06)
Fitness Factory (B-09)
Frosties (L02-21B)
Hallmark (L03-14)
Homelux (L03-07)
House of Samsonite (L02-03)
Island Surf (L01-25)
Istudio (L03-09)
Jewellery Choice (L02-32B)
Jia Moda (L01-24)
Jockey (L02-10A)
KFC (L04-07)
Klassy Cafe (L02-32)
LCY (L01-14)
LOCCITANE (L01-28)
La Crème Ceylon (L02-30)
Leather Collection (L01-19)
Levi's (L01-31)
Lumbini Tea Valley (B-10)
M Burger (L04-02)
MAIN Sports Bar & Restaurant (L04-09)
Mac Mart (L02-32A)
Magic Corn (L04-14)
Mamas Brownies (L04-13)
Mangkok Chinese (L03-19)
Mega Viticulture (L04-04)
Miika (L03-15)
Mimosa (L01-29)
Nail Spa (B-06/07)
Nuts and Murukku (B-10A)
ODEL (L01-16)
ODEL (L02-13)
ODEL (L03-13)
ODEL Sports (L02-08/09/10)
PJ Jewelers (L02-14)
PappaRich (L01-02/03)
Pizza Hut (L04-06)
Popeyes (L04-11)
Rancrisp (B-12A)
Red & PNK (L03-01)
Revlon (L02-21A)
Roots (L01-07)
Saheli Shoes (L02-23)
Samsung (L03-08)
Sazu (L01-27)
Scope Cinemas (L04-01)
Seylan Bank ATM (ST4 ATM1)
Shinjuku (L04-14B)
Shooting Arena (L03-02)
Signature (L02-04)
Singer (L03-04/05)
Sona Mandhir (L02-28)
Spa Ceylon (L01-20/21/22)
Spade (L02-17)
Street 82 (L02-05)
Subway (L04-05)
Swarovski (L01-17/18)
The Layover (L04-03)
Titan (L02-31B)
Tommy Hilfiger (L01-11)
Toytopia (L03-02A)
Twisting Scoops (L04-13A)
U&T International (L03-11)
UCB (L01-32)
Us Polo, Red Tape (L01-12A)
Vision Care (L02-15/16)
Waves (L02-27)
WellnessFix (B-08)
Wet n Wild Jungle Zone (L04-17)
Wet n Wild Ocean Zone (L04-18)
Wimaladharma Brothers (L02-19)
Winni Bubble Tea (B-10C)
Wrist Lab (L01-26)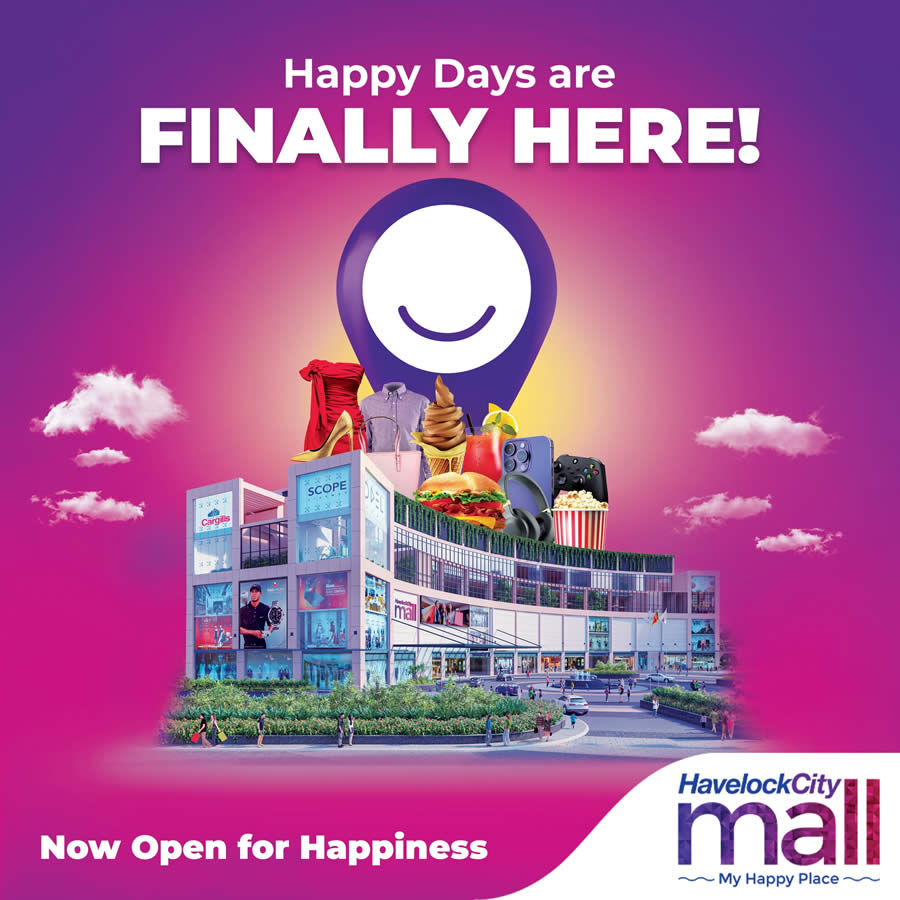 Address
No. 324
Havelock Road
Colombo
Sri Lanka
Visit havelockcitymall.lk for more info